Castel Porrona Relais lies in an enchanting medieval village surrounded by Tuscan hills dotted with olive groves, cypresses and vineyards near Montalcino.
It is located in the young wine country of Montecucco, a short drive away from main attractions such as Siena and San Gimignano as well as from the hot springs Bagno Vignoni, Saturnia and the coast of Punta Ala, Castiglione della Pescaia and Porto Ercole.
Castel Porrona Relais offers 25 air-conditioned large double bedrooms all different from each other. All rooms are furnished in Tuscan country style with old materials and luxurious fabrics, and each has a distinctive color theme with custom finishes.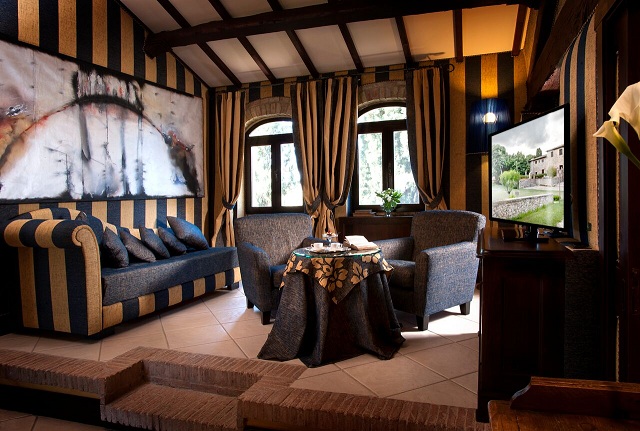 Some rooms have panoramic views of the surrounding countryside. All are equipped with free Wi-Fi access, air conditioning, hair dryer, courtesy line, a minibar, coffee maker, LCD flat screen multi channels and Mediaset Premium programs.
The deluxe rooms range from 28 to 32 square meters. All rooms have wall coverings in sumptuous coordinated fabrics, bare wooden beams, views over the village of Castel Porrona, and relaxation corners. Some rooms have a hydro massage shower or four-poster bed and panoramic views.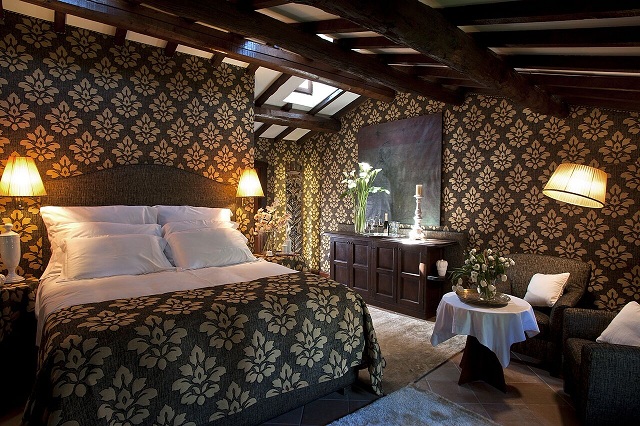 The Suites are between 30 and 40 square meters with a bedroom and a living room. The Suites are unique solutions for spaces, finishes and equipment, all different from each other. With rustic décor in the pure and elegant style of Tuscany with wooden beams, each room has its own color theme and custom trims.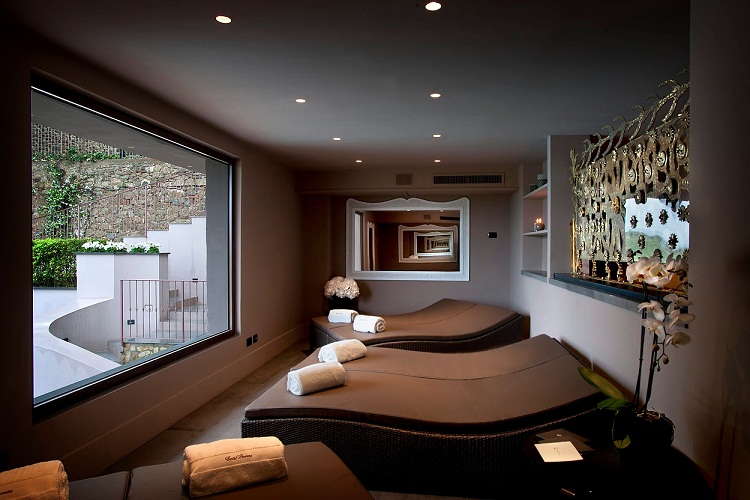 The Executive Suites are luxurious solutions for newlyweds or couples on a romantic getaway and cover spaces ranging from 40 to 50 square meters. All the Executive Suites boast double spa tubs, living rooms, and separate areas. Some have four-poster beds or mezzanines, and many enjoy panoramic views of the surrounding countryside.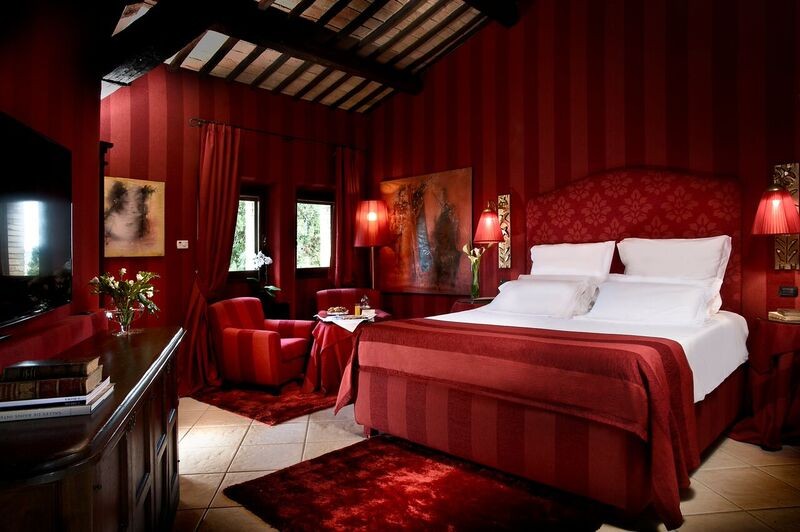 Each of the bedrooms has a well-appointed – and very private – ensuite bathroom, complete with candelabras and showpiece tubs. In this en-suite bath, there are three orange chairs to sit in, surrounding a stand-alone tub and separate shower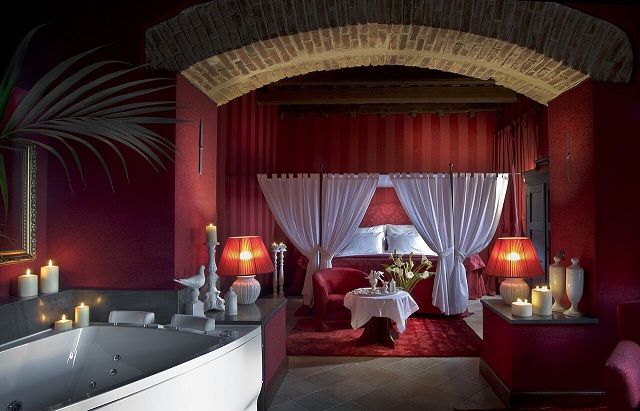 Il Chiostro is Castel Porrona Relais' restaurant pairing regional specialties with fine Italian wines and using only the freshest ingredients sourced from local producers. To top off savoury dishes, the pastry chef offers a tempting selection of desserts that are sure to satisfy even the most discerning guest.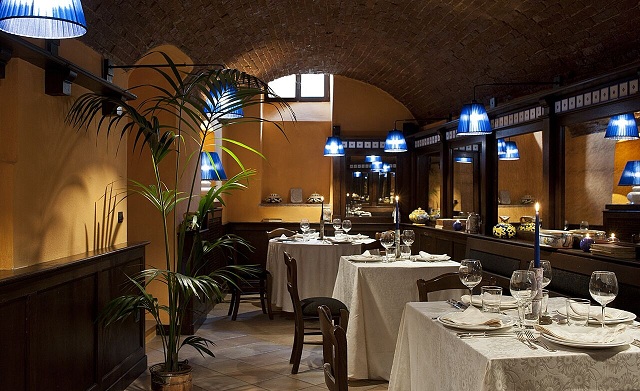 A wide variety of à la carte items are also available for lunch and dinner, all of which can be enjoyed in the restaurant's picturesque garden or in the intimate indoor area.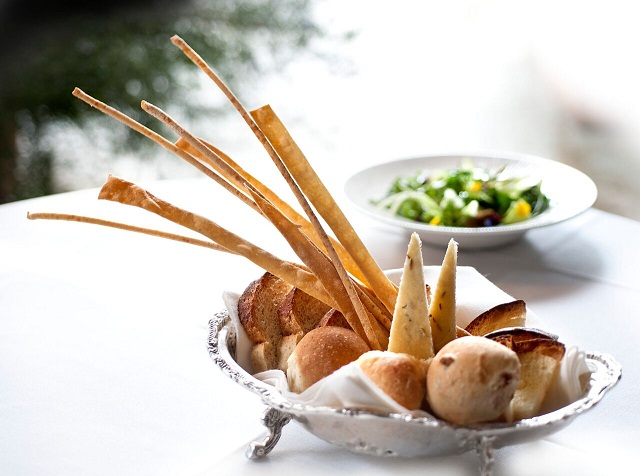 Guests can indulge in a pampering treatment at the hotel's full-service spa, Agua Spa, immersed in the tranquility of the countryside. Services include deep-tissue massages, sports massages, Swedish massages, and Thai massages. A variety of treatment therapies are provided, including aromatherapy and Ayurvedic.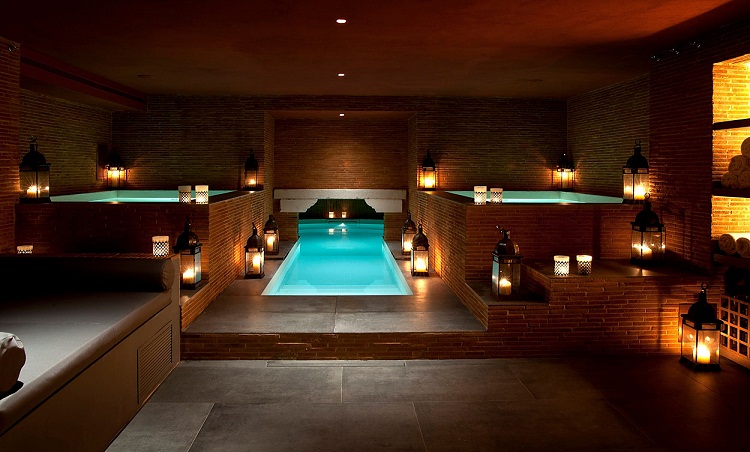 Complete relaxation awaits in the Moroccan-inspired hammam, sauna, wine therapy baths, and several treatment rooms where niche products created from Tuscan-made olive oils and wines are incorporated into the signature massages and wellness rituals.
Castel Porrona Relais is the ideal destination for a sea and countryside escape.
For more information, please contact: http://www.castelporrona.com
Tel: +39 0564 993206